Valentine is a special time to share your heart with others. You can do that in many ways. Here are two of my favorite ways.
Heart Cake
Make a heart-shaped cake without purchasing a special pan.
cake mix
9" round cake pan
9" square baking pan
2 can of white frosting
Cherry pie filling
Make cake batter according to package directions and pour into greased and floured cake pans. Bake as directed. Cool cake 10 minutes in pan on cooling rack. Remove from pans.
Place the square cake diamond fashion on the serving dish. Cut the round cake in half and place each half with cut side next to a square side to form a heart. Frost with white icing and make a border around the outer edge to hold the filling. Top with cherry pie filling.
Heart-Shaped Cupcakes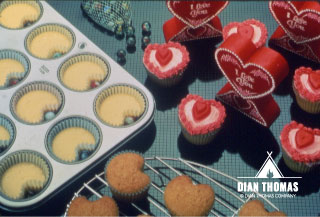 It's easy to make heart-shaped cupcakes using your favorite recipe!
Cake batter
Paper baking cups
Marbles or aluminum foil
Line muffin pans with paper baking cups and fill ½ full with batter. Place a marble or small ball of aluminum foil in each cup between the paper liner and the pan to make the heart-shaped mold. If the cups aren't about 2/3 full, add a little more batter. Don't overfill the cups or you'll lose the heart shape. Bake as usual. Frost the cupcakes, pile decorative frosting around the outside to further define the heart shape, and decorate with Valentine candies.