Over the years, I've been accused of owning an aluminum foil company because I often use and recommend foil for outdoor cooking. Foil assists with easy food storage, preparation, cooking — and even easier cleanup.
One advantage of foil cooking is that each dinner guest, including small children, can assemble ingredients for his meal and then watch his own food "packet" cook to the desired doneness.
Boy Scouts in particular are experts at preparing and grilling the famous Hobo Dinner. My favorite, though, is the foil wrapped Banana Boat, which uses marshmallows and chocolate chips and cooks in a banana peel.
Aluminum foil is a versatile material for cooking and wrapping food. It can be used for both hot and cold foods and is the modern version of cooking with leaves and clay. Introduced in 1947, aluminum foil has become an increasingly popular cooking material and a mainstay in every kitchen. It is 95 percent aluminum, with iron and silicon added to promote strength and puncture resistance.
Aluminum foil can be purchased in regular, heavy duty and extra-heavy-duty thickness. The heavier weights are often preferred for outdoor cooking because of their additional strength.
Aluminum foil can be shaped into a homemade pan using extra-heavy-duty aluminum foil. Cut a piece of foil and place it inside another pan, molding the desired shape. Fold down the excess on the sides, giving the pan extra durability. This homemade pan eliminates a dish to wash.
How To Do The Drugstore Wrap
Cut one or two pieces of lightweight foil or one piece of heavy-duty or extra-heavy-duty foil twice the distance around the item to be wrapped. Next:
Arrange food in the center of one piece of foil.
Bring opposite sides of the foil together and fold down in small 1/2-inch folds until package can no longer be folded.
Flatten the two sides of the package, then roll the open edges toward the center in small folds. Edges of the package must be tightly sealed.
If the package needs to be wrapped again for strength, place the folded top of the package upside down in the center of another piece of foil and repeat.
One advantage of foil-wrapped parcels, or "tin foil dinners," is that they can be prepared, seasoned and packed in advance of cooking. Everyone can make his or her own dinner and season it to taste. This cuts down on preparation time and gives everyone an activity. Another plus is that these dinners will hold their heat for 10 to 15 minutes. You can enjoy dinner served directly out of the foil wrap.
Place food in the middle of 1 to 2 sheets of foil for the drugstore wrap.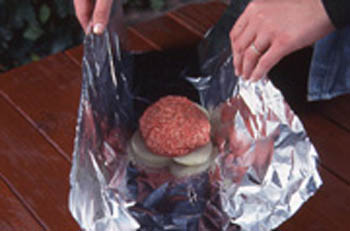 Fold in half-inch intervals, starting at the ends and working toward the center.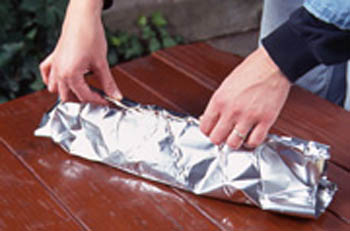 Roll open ends toward the center to seal for perfect packets.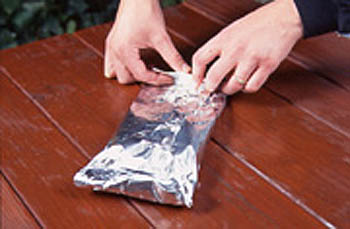 Great Recipes for Foil Cooking over a Campfire
Every time I go into the outdoors — whether it's in my own backyard or into the woods — I roll out the aluminum foil. And I've developed some recipes that are my personal favorites.
Here are a few of those favorite recipes, which by the way, can be cooked over a campfire or in your oven at home.
Corn on the Cob
Always cook corn with the husks on to protect it from burning during cooking. The corn is much sweeter than when cooked in water.
Aluminum foil
Ears of corn with husks
Butter or margarine, softened
Salt
Pepper
Method #1 — Corn with husk (preferred)
Peel back the husks from the ears. Remove the silk. Spread with butter; season with salt and pepper. Pull the husks over the ears of corn and wrap individually in aluminum foil. Cook on a bed of hot coals for 10 to 15 minutes, turning frequently.
Method #2—Corn without husk
Brush ears with butter. Add salt and pepper. Wrap each ear individually in aluminum foil and cook on grill over a bed of hot coals for 15 to 20 minutes, turning frequently.
Hobo Dinner
18-inch heavy-duty aluminum foil
2 carrots, peeled and thinly sliced
2 medium potatoes, peeled and thinly sliced
2 onions, sliced
*1 pound ground beef, shaped into four patties
1 teaspoon salt
1/2 teaspoon pepper
Cut four squares of foil. Divide vegetables into four equal portions. Layer with one-half carrots, potatoes, onions and ground beef; finish with onions, potatoes and carrots in that order. Season with salt and pepper. Seal using the drugstore wrap as explained above. Cook on a bed of hot coals for 15 minutes on each side. Serve as a main dish or supper. Serves four.
*Breast of chicken or fish fillets can be substituted for ground beef patties. Cooking time may need adjusting.
Banana Boat
Recently, I overheard a small girl tug at her father, point to me, and whisper, "Daddy, that's the banana boat lady." I knew I had made an impression. You too can make memories with your loved ones by introducing them to the fun and simplicity of outdoor foil cooking.
The banana boat that earned fame for Dian Thomas in the eyes of one little girl.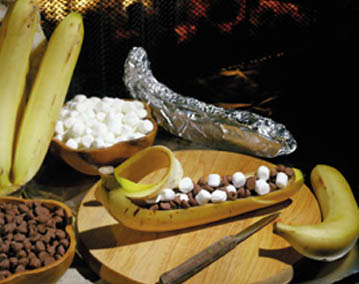 18-inch heavy-duty aluminum foil
1 banana, unpeeled
Miniature marshmallows
Milk chocolate chips or broken candy bars
Cut a slit lengthwise about two-thirds of the way through the banana from the stem to the base. Fill the slit with miniature marshmallows and milk chocolate chips or broken pieces of chocolate bars. (I like to use milk chocolate chips because they melt in your mouth, in your hand — they melt everywhere.) To heat the banana boat, wrap in foil and cook on hot coals for five minutes, or until the chocolate and marshmallows have melted. Serve as a snack, a dessert or a treat around the campfire.
One word of caution: If you leave the boats in the coals too long, the bananas will liquefy.
You can also create a fruit "banana boat" by using maraschino cherries, shredded coconut, nuts and pineapple.
And remember, foil cooking has three great benefits. It's easy to use, there aren't any dishes to clean up, and the preparation for cooking the food is done by the person who will eat it. I find this so valuable when it come to build experience and memories that will last forever.