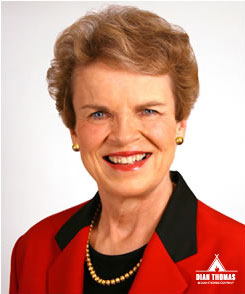 Dian Thomas was blessed with the good fortune to be born and raised in breathtaking southern Utah where her father was a forest ranger. Dian's family gave her the opportunity to learn camping activities, outdoor cooking techniques and many other skills for creating fun over a campfire and in the wilderness.
Dian's master's thesis provided the basis for her first book, Roughing It Easy. Her appearance on The Tonight Show propelled the book to the New York Times best-seller list where it remained all summer. From that momentum, Dian worked hard to become an expert in public relations, publicity and promotion. Since that time, she has written eighteen books, and made thousands of personal appearances with her innovative "live demonstrations". Dian has served as national spokesperson for divisions of Kraft Foods, Procter & Gamble, Dow Chemical, and countless others.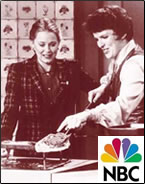 Dian's television appearances led to contracts with NBC's Today show, where she was a cast regular for eight years. That was followed by a six-year contract with ABC's Home Show. During this time she also appeared several times on ABC's Good Morning America and numerous other national and local television programs. She is still a sought-after presenter, speaker and television personality.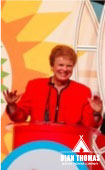 The secret of Dian's amazing publicity success is her professionalism. She began her career as an amateur but quickly conquered television, radio, magazines, newspapers, books, and the Internet and other new technologies. Her new venture, entitled How to Get a Million Dollars' Worth of Free Publicity, attests to the success Dian has enjoyed as one of the country's foremost experts on public relations. That campfire Dian lit years ago in the southern Utah forests of her youth is still burning bright and bringing warmth and light to millions. Let Dian show you how to promote your message to an audience of millions.